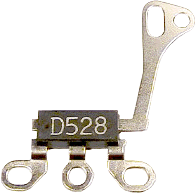 This tech will allow you to upgrade your 3 wire original alternator to a one wire on your Chevy.This will eliminate the mechanical voltage regulator that can stick and drain your battery.It will work on just about any GM vehicle that already has an alternator.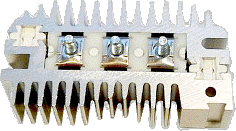 If you have a 1 wire alternator, did you know that most auto parts stores don't stock parts for these? These alternators use a self-energizing voltage regulator.Might be a good idea to get one and keep it around in case you ever need to do a conversion, break down while on a trip, or find out your 1 wire alternator is sold out or out of stock for some other reason.This way you can buy the cheaper 3 wire alternator, which can be found almost anywhere, and do the conversion roadside. They are relatively cheap.Average cost is $6-$8 bucks.
The parts needed to convert a 3 wire Delco alternator into a 1 wire alternator are shown in the following table.I recommend using 10 gauge wire to go from the back of the alternator to the battery at minimum.

---
Voltage Regulator
Diode Trio
Rectifier Bridge
AES
1098
91
182
AIM
AO-0710D
AMSCO
DA-94S-E
DA-109
DA-1
ATP
DR10T
DR10C,DR10H,DR10Q
BWD
R695
SC5
Caterpillar
9N1202
CPC
ATDE-690
ARDE-035
Delco
1975328,1984459,1985348,

D3920,DR3922,DR3923

1852209,1875627,1891055,

1984638,D3915

Dubois
1000S
5000A,501-001
5060,5061
Echlin
VR-166
AC-12
AC9
Hybritex
HDR-1002SE
HDT-1010
IPM
IA-6056
1A-1484
KEM
KVR810
DA15
NAPA
VR166
AC12
AC9
RCP
13659T
Rayloc
01-040-049-0072
01-040-046-0009
Renard
5097
5205,5260
5000
Solid State
VRD387XL
DTD10150
RBD5040,RBD5042
Standard
VR-191
D-11
D-4
Valley Forge
VR197
W6848
W6847
WAI
35-101-1
33-100
31-101-2
Wells
DR302
Woodauto
DDT 3960A
RTF 3982